Electrode Brackets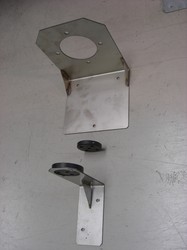 Brackets are available to mount all electrode holders.
Brackets can be for 1, 2 or 3 electrode holders. Multiholders always use single holder brackets. Steady electrode brackets are used to prevent any lateral movement of the electrode. These are usually single brackets with insulators to prevent detritus bridging between electrodes in contaminated liquids.
Separators are available for multiholders.
Brackets are manufactured in 304 stainless steel.
Steady brackets in contact with potable water are in 316L stainless steel
Brackets can be customised to specific requirements and in alternative materials
As a guideline for ordering purposes the following holders use the appropriate brackets
Brackets for use with HPE7 Single Electrode Holders
Brackets Type Material
71/SS single SS 316
72/SS dual SS 304
73/SS triple SS 304
75/SS steady SS 316
Brackets for use with E14 multi holder
Brackets Type Material
71/SS single SS 316

Brackets for use with E22 Electrode Holder
Brackets Type Material
71/SS single SS 316

Brackets for use with Alarum
Brackets Type Material
71//SS single SS 316
Brackets for use with E13 Multi holder
Brackets Type Material
81/SS single SS 316
218A/SS steady SS 316
214A separator PVC
Brackets for use with E23 Multi holder
Brackets Type Material
85/E23 single SS 316
218/E23 steady SS 316
214/E23 separator PVC
Brackets for use with HPE8 Electrode Holders
Bracket Type Material
81/SS single SS 316
82/SS dual SS 304
83/SS triple SS 304
85/SS steady SS 316
Downloads
Specs