Pressure Products
Continuous Level Measurement and Control Systems
Continuous Monitoring.
Ignores Foam Layers.
No Dead Band.
Proven Technology.
Borehole Depths.
Aggressive Liquids.
Simple Installation.
Reliable and Repeatable.
A wide range of suitable controllers are available from the
Indication & Control
section.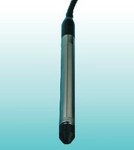 2 Wire & 4 Wire pressure sensors for borehole and well applications and general use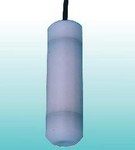 Two Wire Submersible Pressure Transmitter made from plastic wetted parts suitable for use in chemicals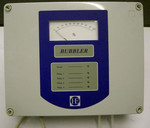 Bubbler Hydrostatic Level Measurement System for aggressive liquids where fumes or chemicals will affect the sensor or in difficult to access installations. Air is bubbled into the liquid using a regulated air compressor via a dip pipe. A pressure sensor monitors the air back pressure and converts the change in air pressure to a meaningful 4-20mA signal coressponding to the depth of the liquid being monitored. As only air bubbles are injected into the liquid then it can be considered a simple low maintenace system. There is also a rodding facility to clean out the dip pipe in the event of a power failure. Additional features can include duty/standby air compressores with air receivers to minimise the wear and tear on the air compressors, Digital displays trip amps and telemetry transmission as required.
Bubblers are designed for specific applications where other measurement techniques struggle. If you wish to discuss your particular application with us we can suggest a suitable Bubbler system designed specifically to your requirements

1