E13A Multi-Electrode Holder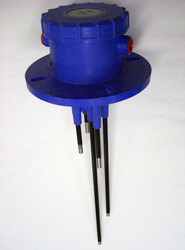 The Hawker Multi Electrode Holder is moulded in tough glass filled polypropylene and accommodates up to 5 plastic coated 8mm electrodes. The standard electrode length is 3 metres. Longer lengths are available via threading & couplers. Electrodes are available in a wide range of materials such as 316L stainless steel, Titanium, Hastelloy C and Monel.
The E13A is ideal for water tanks, chemical storage tanks & bunds. 5 electrodes enable the E13A to be used for pump control with high and low alarms.
Variations of the E13 include the IP67 version which is part encapsulated and the IP68 version which is fully encapsulated with a flying lead.
all models are available for installation in hazardous areas.
Mounting and steady brackets, separators etc are available to aid easy site installation. Always use the well proven, AC series controllers such as the P4 & DC1/P incorporating CSD circuitry.

The Universal Flange is suitable for:-
ANSI 3" 150Ib
DN80 PN16
BS10 table D 3"
Fixing kits available (ref 215)
Hawker Type 81/SS Bracket
Temp range: -20 C to +85 C
Weight:- 0.55Kg
An E13A/IP67 is available to special order.

Mounting Bracket Type 81/SS

Steady Bracket c/w U.P.V.C. Insulator. For electrode lengths greater than 1.5m.Type 218/SS

Types 81 and 218 are Stainless Steel Brackets

Separator for spacing electrodes where 218 is not suitable. Material is U.P.V.C. Type 214

When ordering specify:-N = No of electrodes. L + 70mm = electrode lengths
Downloads
Specs
Connection Diagrams
Leaflets