Borehole application using a Pressure transducer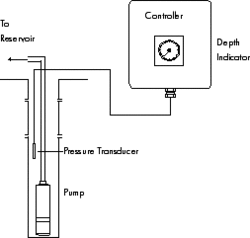 Indication of water level in borehole using pressure transducer can be incorporated in above systems.
Lvel probes give point level detection. Sometimes continuous level indication is required so a mixture of level probes and a pressure transducer can be used.
The pressure transducer will give a continuous output signal for the calibrated depth of liquid and the signal will be either a millivolt or a milliamp signal. Nowadays most people prefer to use a milliamp signal in the range of 4 - 20 milliamps.
This output signal can be connected to a signal conditioning module to allow it to be respanned or into a trip amplifier to control pumps and give alarms or to a BMS system.