AC1 & AC1/P Controller for wall & panel mounting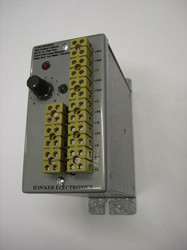 Level Control for Conducting Liquids
Level controllers with close switching differential available with two options. AC1 for wall mounting supplied fitted into an IP66 enclosure or the AC1/P for panel mounting. Both units have fully adjustable sensitivity between 100 ohms and 18,000 ohms and a switch selectable fail safe operation. Two sets of volt free changeover contacts with LED for relay operation and also a power on LED. Tropicalised version available for hot, humid atmostpheric conditions. AC2 is comprises an AC1 with a pushbutton for low level borehols applications. AC1 and AC1/P are also available as ACJ and ACJ/P for long distance operation applications beyond 1 kilometer. Supply voltage 110 or 230vAC.

Applications
Aqueous solutions such as water, sewage, most acids, milk, beer, etc.

Dual electrode operation for control between two levels.
Single electrode operation for alarms.
Very accurate - Relay switches at the exact tip of the probe.
Easily set up and very stable.
Fail Safe Switch.
Fail Safe High for Pumping In
Fail Safe for Pumping Out

Uses
Chassis only or wall mounting level controller.

Controls between 2 levels, High Level Alarm, Low Level Alarm, Borehole Level Control.
Adjustable sensitivity and close switching differential to ignore electrode fouling and save electric power.
ATEX Approved (hazardous area) models available (Data Sheet No 329 )
A.C. current at the probes to prevent possible electrolytic action between them.
Full range of hardware available for easy site operation.
Downloads
Specs
Connection Diagrams
Manuals
Leaflets