Conductivity Controllers Products
Hawker Electronics have continually improved upon the original conductivity level control principle to provide today the most comprehensive and reliable range of level controllers and associated hardware. Our controllers are unique in their design because of their close switching differential. This allows them to operate in contaminated liquids such as those with the presence of foam, wet rags and sewage.All our controllers employ low voltage AC in the electrode circuit and are available in AC or DC supply voltage supplies. ATEX and IECEx approved equipment is also available.
If you would like to see a video clip about the controller's ability to ignore ragging then follow this link http://www.youtube.com/watch?v=63z8LmPD4ks and if you would like to see a video clip about the controller's ability to ignore foam then follow this link
http://www.youtube.com/watch?v=Z9URP0B-4I8
This ability to ignore electrode contamination makes the Hawker controllers operate successfully in heavily contaminated liquids such as Combined Sewer Overflows ( CSOs) sewage and chemical applications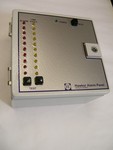 BSA Building Services Alarm for liquids
A 10 Channel alarm unit with cable monitoring and Test Facilities where up to ten alarm points can be monitored.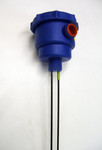 Level controller and level probe assembly combined. Compact low voltage unit for typical applications of bund alarm, leak detection etc. Suitable primarily for clean water applications. Fixed sensitivity with one volt free changeover contact. 3/4inch BSPP mounting with two 3mm diameter electrodes up to one metre long. Supply voltage 12 or 24 vDC. Also available as an ATEX certified version ( CSO/ALARUM) with 8mm diameter electrodes up to 3 metes long.