Borehole Electrode E4 and E5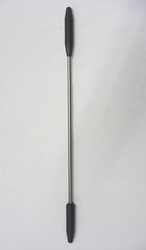 Borehole electrodes used to control pumps etc, between or at specific levels.
An earth return electrode is sometimes strapped to the rising pump main.
Manufactured from UPVC and S.S. Type 316.
E4 is unshrouded.
E5 is shrouded to prevent spurious operation by water in-falls.
Special electrode suspension cable available.
Conductor :- 7 x 7/0. 1mm S.S. Polyurethane Insulated.
Diameter :- Approximately 5mm. Breaking Load approx 75kgs.
The S.S. Cable is used in preference to copper to reduce the risk of losing the borehole electrode due to galvanic corrosion. It is certified to BS 6920 Pti. 1990.
For ATEX Approved (hazardous area) Model E5 only (using P7/IS Level Controller) add prefix 1GO/ and suffix/IS to give 1GO/HPE5/IS.